Polyetheretherketone (PEEK) Granules are produced using modern filtration units and are the most widely used PEEK material. Therefore this high-performance product with a combination of quality properties stands out in the Polymers. The PEEK material is wear, fatigue and creep resistant as well as resistant to chemicals. Moreover, this material is temperature resistant up to 240 °C (464 °F). It has a melting point (Tm) of 341 °C, and a High Glass Transition (Tg) temperature of 143 °C. Light weighting and sustaining in harsh conditions makes PEEK to a good alternative to metal.
Wear resistance
Fatique resistance
High temperature resistance
Creep resistance
Chemical resistant
Light weight
Sustaining harsh conditions
Alternative to metal
PEEK granules can be converted to semi-finished or finished parts through extrusion or injection and compression molding process.
Because of the exceptional properties like light weight and sustaining harsh conditions PEEK is always in high demand in the automotive industry. And resistance to chemicals makes PEEK a suitable Polymer for applications in Oil and Gas industry.
The PEEK material is mainly used as a support ring for seals, in rolling and plain bearings, as valve plates or as matrix material for composites.
To sum up PEEK is usually used in the following applications and industries:
Seals
Bearings
Valve plates
Washers
Insulating components
Automotive industry
Oil & Gas industry
Food industry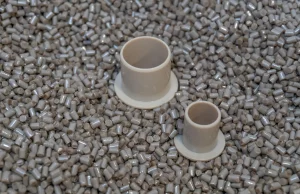 We offer the following CoPEEK granules:
All four CoPEEK grades (Low, normal, high and ultra-high viscosity) are available as granules.
-CoPEEK 012G: High viscosity
-CoPEEK 021G: Middle viscosity
-CoPEEK 085G: Low viscosity
-CoPEEK 125G: Very low viscosity
The CoPEEK natural grades are also available as prefiltred raw material.
CoPEEK granules come in 25 Kg bags in a carton-box.
At BIEGLO, we also offer food grade CoPEEK granules.
Additionaly to PEEK granules we also offer PEEK powder.
You might also be interested in: