Polyimide (PI) is a high temperature polymer that can be aromatic, semi-aromatic, or linear according to the composition of the chains. Aromatic molecular structure is the most used PI because of their thermostability. Depending on the type of molecular bonding within the chains, PI can be thermoplastic (TPI) or thermosetting (PI-s). TPIs become soft (melts) when they get heated as the bonding within the chains' elements cannot be broken but the chains can slip easily. In contrast, PI-s become hard/cure as the chains have ability to break down and make bonding with other adjacent chains in 3D space, knows as cross-linking. The main differences of PI-s and TPI are as follows:
• PI-s has HIGHER thermal resistance than TPI
• PI-s has HIGHER tensile and compression strength than TPI
• PI-s has HIGHER dimensional stability than TPI (due to lower water absorption and thermal expansion)
• PI-s has LOWER impact resistance, and elongation than TPI
• PI-s is difficult to process, while TPI can be processed using conventional injection, compression molding, and extrusion process
The properties of PI-s and TPI in comparison to other high-performance polymers are shown in below figure.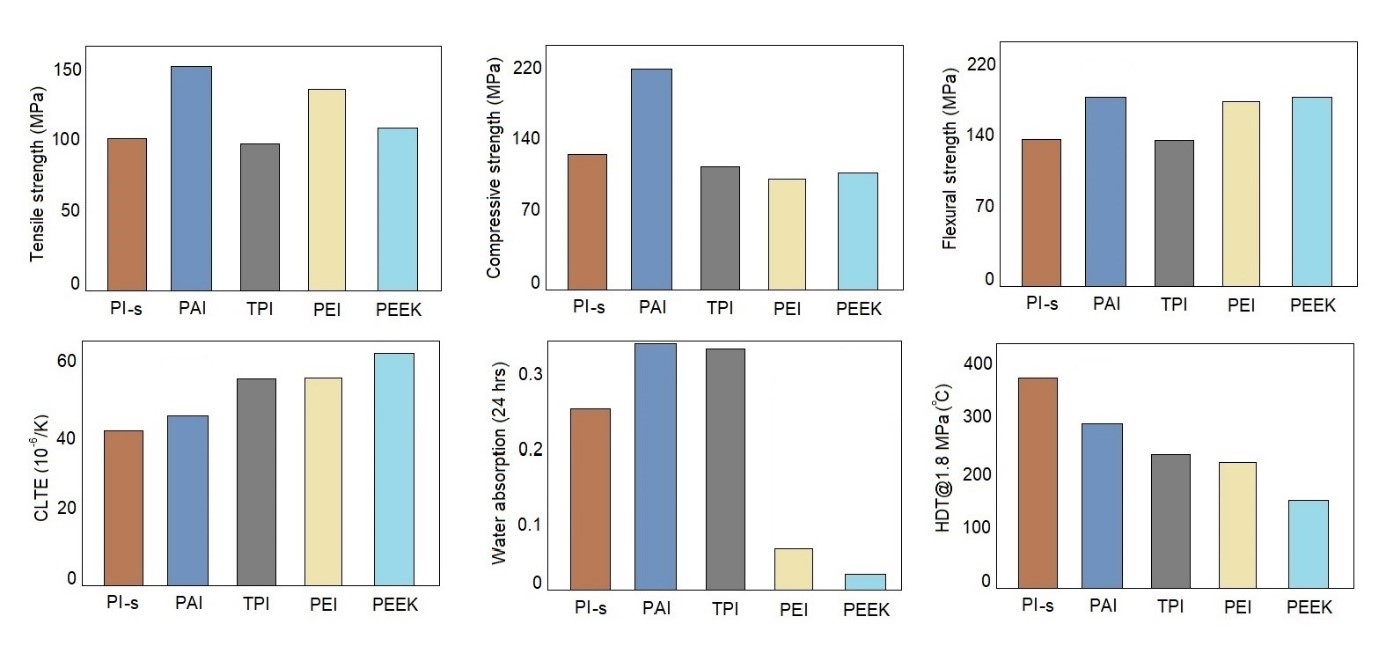 PI-s is often used for sealed products due to their resistance to deformation at elevated temperatures (intermittently up to 482°C and continuous service temperature of over 315°C), while TPI are used for lower temperature applications (continuous service temperature of over 240°C) that need higher impact resistance and elongation than PI-s. PI-s impresses with low wear and a long life, in particular, the dimensional stability at very high temperatures is remarkable. PI-s is lighter than metals and more flexible than ceramics.
PI-s is commercially available in form of liquid resin/solution, granules/powders, films, fibre/filaments, and semi-finished parts such as rods, tubes, and plates. Semi-finished PI parts are normally produced using hot compression molding, direct forming, and isostatic molding processes. These semi-finished parts can be further CNC-machined to produce precise parts for demanding applications.
TPI is available in form of either powders to be used for compounding or granules to be used through conventional injection molding or extrusion processes for producing final parts.

BIEGLO currently offers both PI-s and TPI in form of powders/granules, semi-finished, and finished parts

BIEGLO is the distributor of Saint-Gobain's Meldin ® PI-s. Under the Meldin ® 7000 brand BIEGLO offers solid bars, plates and finished parts made of PI-s. These semi-finished parts are produced using hot compression moulding, or direct forming processes. The range of Saint Gobain includes also PI with different additives, such as PTFE or graphite.

BIEGLO can offer Saint-Gobain's Meldin® PI-s in the following shapes:

• PI-s Rods
• PI-s Sheets
• PI-s Tubes
PLAVIS is the Polyimide material offered by Daelim Co., Ltd as the most Super Engineering Plastic available in the market. PLAVIS has a unique chemical structure with some of the highest thermal, physical, electrical and other resistance properties. Daelim Co., Ltd produces PLAVIS raw materials into molded parts, plate/sheet and rod types.
• BIEGLO is the distributor for PLAVIS 'S' sheets.
To complete the PI-s range, BIEGLO also offers semi-finished products of other producers including

• PI-s Fibres
• PI-s Filaments
• PI-s Films

Do not hesitate to contact us for unusual projects and applications. We are pleased to consult you.

In addition to Saint-Gobain's Meldin ® semi-finished/finished PI-s, BIEGLO offers both PI-s and TPI granules and powders.

• PI-s powders
• TPI powder AURUM ®
• TPI granules AURUM ®
Mitsui Chemicals Inc. appoints BIEGLO GmbH the distribution of AURUM ®:
Download AURUM ® TPI Overview on available grades

+++ If you are interested in buying AURUM ® TPI Products please fill out the following PDF-Form, to provide us with the needed information:

+++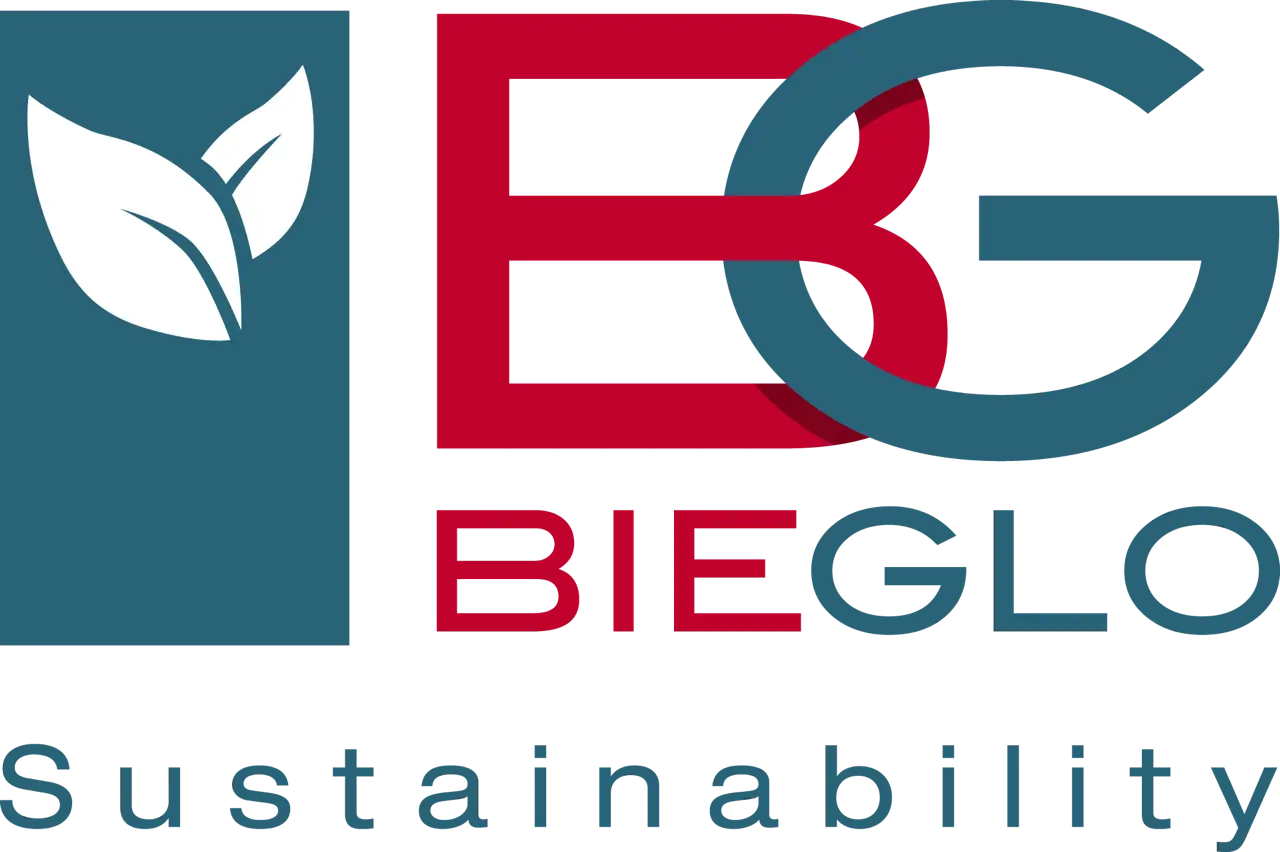 Our Portfolio of finished Parts will be available soon.
Products will be launched here in a few days.
BIEGLO can provide the customers with on-demand precise final PI parts (such as high temperature sealings, insulation tubes, etc.) produced by Saint-Gobain's advanced direct forming process or CNC-machining of Meldin ® semi-finished parts. Furthermore TPI can be melt-processed and BIEGLO can offer injection-molded parts too.
We can offer extremely high precision machining with a tolerance of +/- 1µ. Our machined parts are available in small, medium or high volumes. Small series of only a few parts are possible, but also high-volume series of many 1000 parts per month. We offer highest surface quality and fully automated machining process.